Entrepreneurship is a valuable skill for teens to develop, and competitions provide a great learning experience for them to do so. 
Over the past few years, entrepreneurship has become a hot topic, with startups valued in the billions, the popularity of shows like Shark Tank, and the increasing focus on entrepreneurship in colleges and business schools. 
Entrepreneurship is also a skill that few students get to experience or develop, especially within the confines of a classroom. Even students who attend high schools with business classes, rarely have the opportunity of building and launching their own businesses. 
However, the rise of entrepreneurial extracurricular programs and competitions is set to change all that. For motivated, business-minded students, there are great opportunities available right at their fingertips.
If your student has an interest in business, a passion for problem-solving, or simply gets motivated by competitions, you might consider introducing them to some of the entrepreneurship competitions available to high school students. At Beta Bowl, we know how valuable entrepreneurship is for developing college skills and lifelong skills. Here's our guide to the best high school entrepreneurship competitions.
Related: Tips for Aspiring High School Entrepreneurs
Why Participate in a High School Entrepreneurship Competition?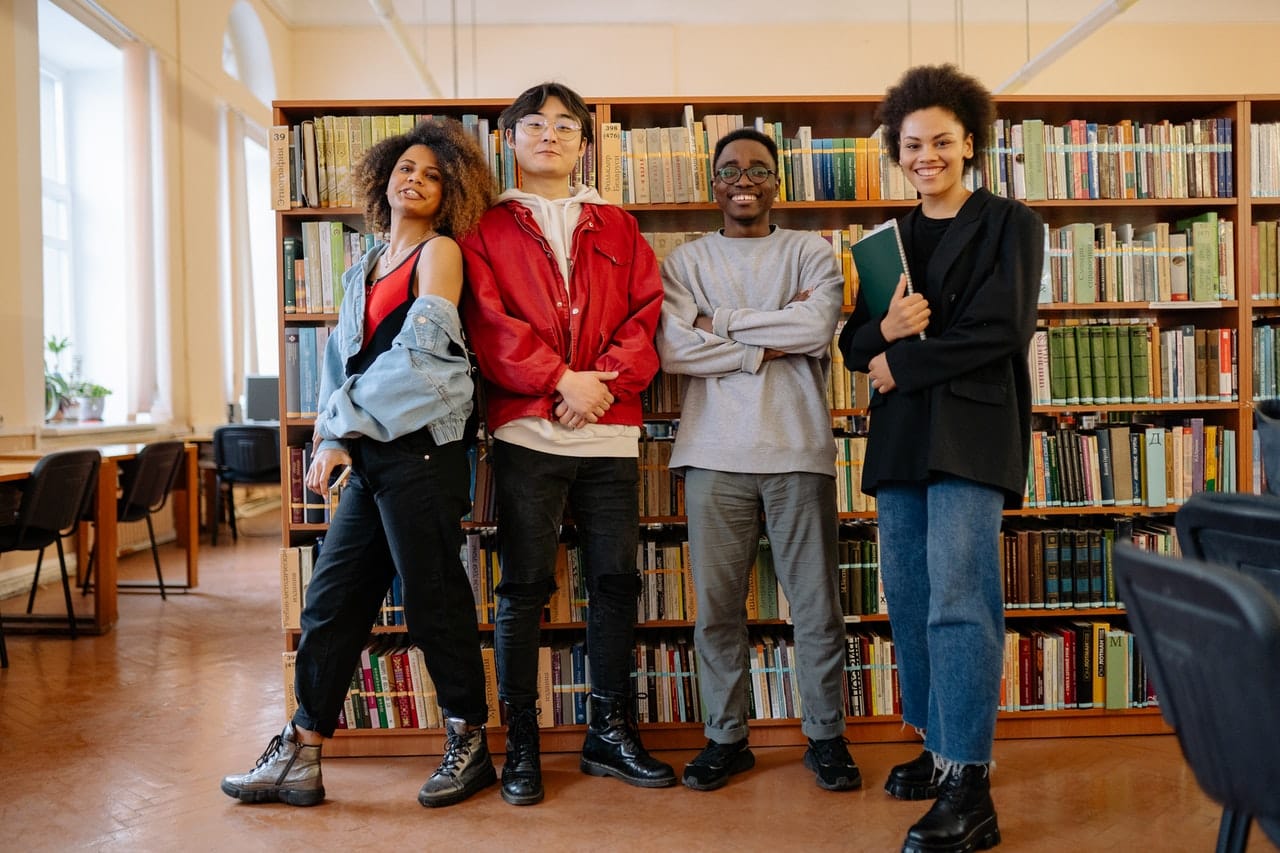 There are countless reasons why teens should participate in high school entrepreneurship competitions. However, the overarching one is the fact that they will learn so much through the process, and that knowledge will help them for decades to come. 
For teens who are business-minded or plan on pursuing entrepreneurship, working for a startup, or going into the venture capital industry in the future, entrepreneurship competitions are a great opportunity to dip their toes into these waters and get a unique insider's look at both the entrepreneur's and investor's perspective.
Entrepreneurship competitions require competitors to demonstrate independence, creativity, determination, business savvy, and communication skills to take their idea from inception to complete the pitch deck and present it for the competition judges. 
All these skills will make teens better, more equipped students. In the long run, they'll be brighter and more confident people. It will give them a leg up in the college admissions process. It's also very possible that some competition participants will find a real passion for entrepreneurship or the business at hand and will become real-life entrepreneurs straight away. 
Finally, aside from the potential to win a title and prize funding, the experience of competing in these competitions can be awe-inspiring on a college application. It can easily set a student head and shoulders above their peers whether or not they win first place.
Check out Beta Bowl for extracurricular activities and mentorship for business-savvy teens.
Best 16 High School Entrepreneurship Competitions
The Diamond Challenge, created by the University of Delaware's Horn Entrepreneurship department, is an entrepreneurship competition for high school students from all over the world. Competing teams may be comprised of two to four high school students and one teacher. 
Teams must choose between two tracks: Business Innovation or Social Innovation. It is a five-step competition, with a submission round, a pitch round, a semi-final round, a top 18 round, and a final round. Registration typically opens in August, with initial submissions due somewhere between late December and early January. 
Initial submissions must include both a written concept narrative, similar to a business plan and a pitch deck. While the early rounds of pitching must be done through virtual submissions, semifinalists do receive an invitation to compete live at the University of Delaware for the semifinal round, which usually occurs in February or March. 
Prizes were given to first, second, and third place winners range from $5,500 to $13,000. The Diamond Challenge does not fully enable teams to turn their ideas into real businesses or meet face-to-face with advisors or investors. However, it does offer resources to help participants complete their submissions, and it also holds an annual three-day Summit following the competition. The three-day Summit is an opportunity for students to learn from and engage with mentors and speakers, as well as network with entrepreneurial peers.
BUILD wants to help teens become the CEO of their own lives. They do this, in part, by empowering them to take action on problems within their communities. Students are taught Design Thinking and then guided through the process on BUILD's digital platform by experienced and trained educators. 
The BUILD program is presented by your school or organization. BUILD provides training and materials for teens and their schools with the aim of empowering teens with a sense of self-agency.  
The design thinking process, also called Human-Centered Design, is as follows:
Empathize

: Students view videos to meet people with problems in their communities. They learn what it means to walk in someone else's shoes and document it.

Define

: Students then choose a client and define their biggest problem.

Ideate

: Students get creative and

develop a unique product, service, or initiative

to answer their client's problem.

Prototype

: Students build a prototype of their solution.

Test

: Students test their idea or prototype and get feedback.

Pitch

: Finally, students present their idea to compete for cash prizes. 
Are you wondering if your school can put on a BUILD Design Challenge? The materials and training come from BUILD, and the only technology and equipment needed are probably easily accessible. Students will need to have a computer or mobile device with internet access. The program will require the BUILD.org website, Padlet, YouTube, Google Docs, EditMate, and Vimeo. Additionally, you can choose any video platform for distance learning. 
The BUILD Design Challenge can be experienced in as little as 10 hours, or it can be used as the beginning of other classes or over an entire semester. It's up to the school and educators. The educator training takes about an hour. 
The program is on the BUILD website and is ready to go. So it can begin at any time after educators have been trained. The training is essential to understand the program's flow and principles and ensure students feel safe and engaged to participate fully.
Related: Top Business Books For Teen Entrepreneurs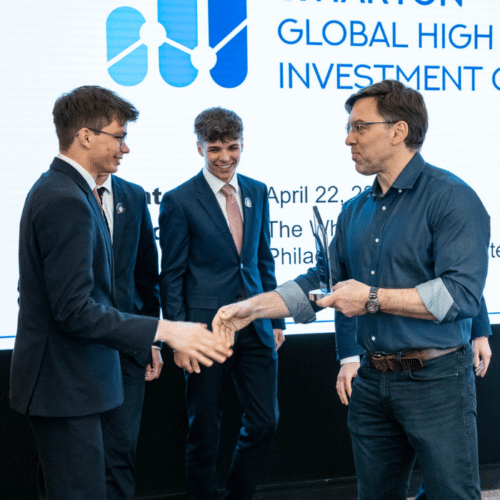 For teens who are intrigued by finance, this global competition may be perfect. The Wharton Business School is a top-ranked institution, and this competition can be an extraordinary opportunity for some business-minded teens. 
Student teams will get to examine a brief case study of a potential client. They'll then create an investment portfolio for this client to meet their long-term financial goals. The team will have $100,000 in virtual money to invest on behalf of their client. Armed with an approved stock list and Wharton's Investment Simulator (WinS), teams can buy and sell stocks over ten weeks to develop their investment strategy and build an impressive portfolio.   
The fun and challenging thing about this investment competition that may be different from other competitions is that winners aren't chosen by how much money they gain for their clients. Teams will present two deliverables which are reviewed by judges. Semifinalists, finalists, and finally, the winning team are determined by the soundness of their investment strategy. 
The Blue Ocean Entrepreneurship Competition is unique because it is the largest student-founded and student-run entrepreneurship competition in the US. 
Registration is typically in December; competitors must submit a pitch by mid-January. The pitch requirements are simply three to five-minute pitch videos explaining and presenting the idea. 
Throughout February, submissions are narrowed down to a top 50 and top 25, and in March, a top 10 is selected, from which winners are announced in mid-March. Prizes range from $500 to $1000 per winner, and high schools with the most submissions also receive a $1000 reward.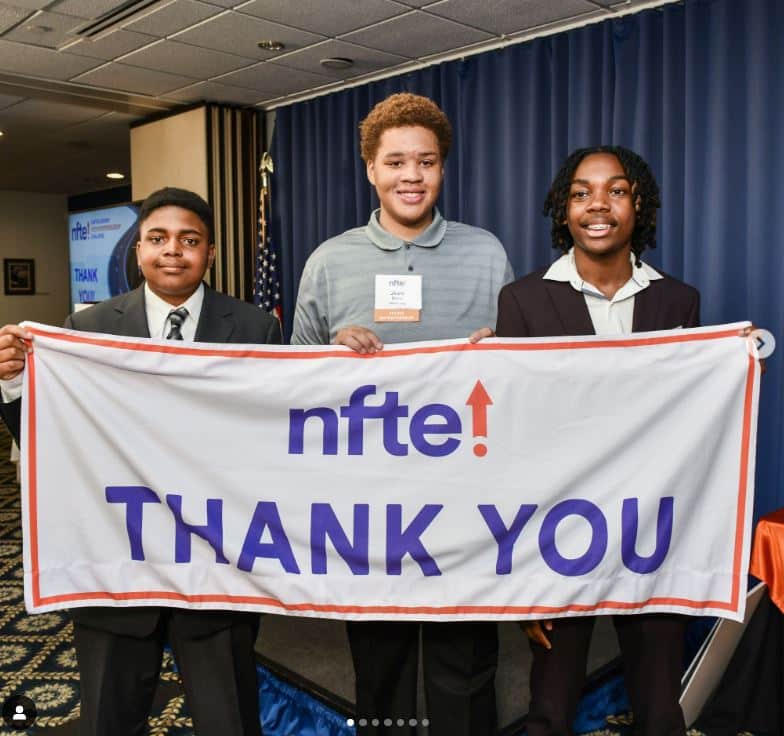 NFTE's World Series of Innovation is an entrepreneurial competition that enables students to submit pitch ideas as solutions to real-world challenges.
Participants must choose from one of the listed challenges, which range from issues like climate change to inequality to clean energy and more. Young people ages 13 to 24 can compete as teams of one, two, or three participants, and the initial idea submission deadline is typically in December. 
Judging occurs in multiple rounds, and the first round takes place in January when judges narrow down submissions to a top 10 in each challenge category. Then, in February, the top 10 groups are invited to pitch a 1-minute commercial or video pitch.
 In March, a select group of final-round judges watches these videos, scores them according to the competition rubric, and declares the winners of the prizes, ranging from $300 to $1800.
Related: Enroll in Beta Bowl
The SAGE Global competitions give students the opportunity to submit an annual report and live presentation for a sustainable business plan. The curriculum, mentoring, and competition is divided by location. It does culminate in a World Cup Championship Competition, which includes prizes ranging from $500 to $2000. 
The SAGE Competition begins with State, Regional, and National competitions, which take place between February and July. Then followed by the World Cup, which takes place in July or August and is held at a different location each year. 
SAGE competitions are somewhat unique in that all pitches are presented live and in-person, so the competition has a much bigger focus on presentation skills and public speaking. The downside of the SAFE program is that participants must be a SAGE school student between the ages of 13 and 19. They must form a team of at least three students, and must meet specific SAGE benchmarks, so not every high school teen is eligible to compete in these SAGE competitions.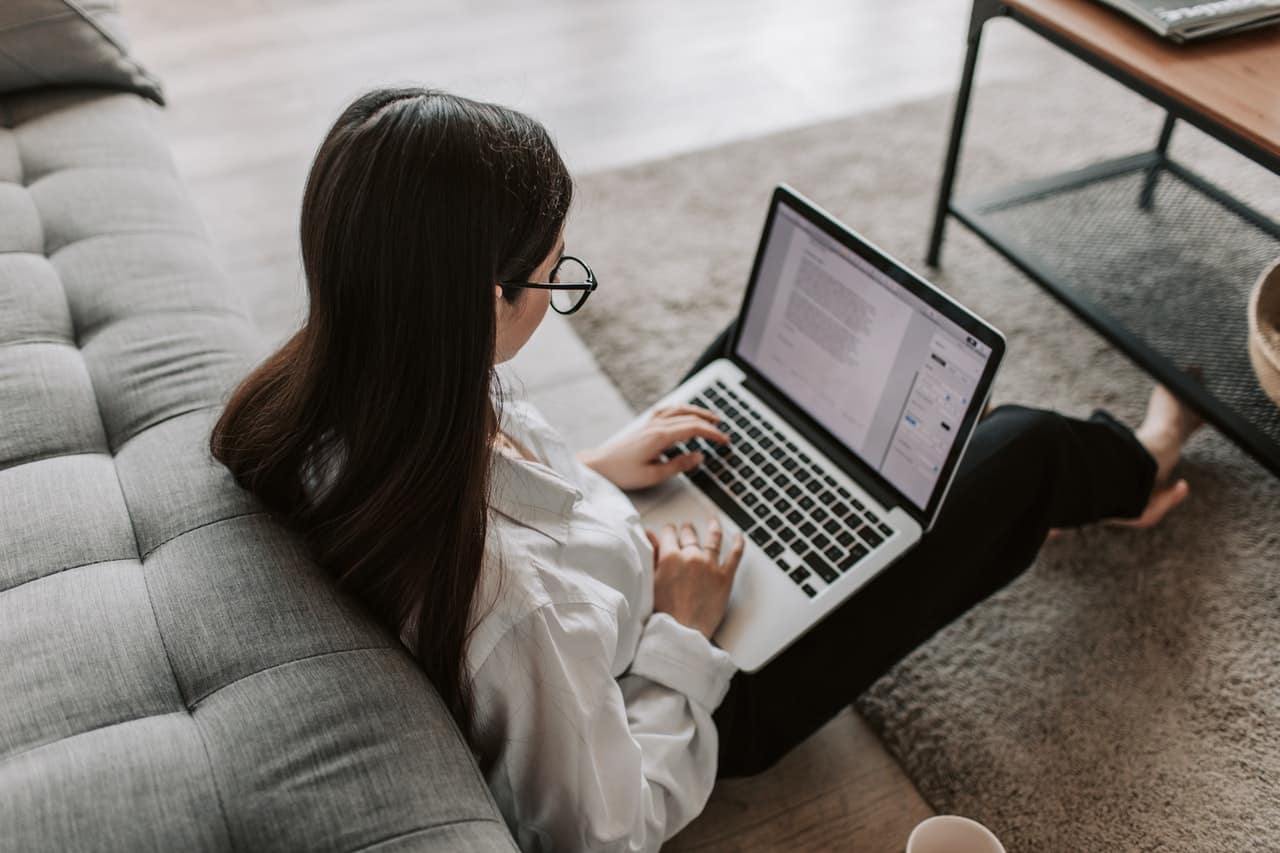 The Green Idea is another very different type of sustainable entrepreneurship competition, as it takes place in Sweden and is a 24-hour green idea marathon. A wide variety of people attend this event, and by the end of the 24 hours, all participating individuals and teams pitch their ideas in front of an expert jury. 
The winners are offered mentorship, 20,000 SEK, and assistance in taking their idea to the next level. Ideas must be solutions for either food, sustainable consumption, or energy. The goal of the competition is to get creative, to create something to improve the world, and to network and pursue real, sustainable solutions in the future. 
Participation is open to anyone, and food and sleeping accommodations are provided to all participants during the entire weekend-long event.
Check out Beta Bowl for an extracurricular activity to give your business a leg up over your competitors.
The Smithsonian Design Museum launched the National High School Design Competition in 2016 in collaboration with Target. Using Cooper Hewitt's "rich collection and stimulating exhibitions," high school students all around the country design a solution to a unique scenario. 
For example, 2019's winners were two 12th graders from Miami who created Sound Gardens. This was a solution to "sound pollution" that urban areas face due to city sounds. Sound Gardens provide a safer habitat for people and wildlife within the city, improving their quality of life. 
Individuals and teams of up to three people should start by creating a design in the form of a sketch. The sketch requirements can be found here. The quality of the sketch is not judged, but it should illustrate the design concept accurately.
Participating high schoolers must then tell the judges about the obstacle and how some people could "feel excluded" in that scenario. Participants should include things they've observed or personally experienced. They then outline the design, its key concepts, and how it works. Entrepreneurs must then explain how the design creates inclusion for the users that were once left out. This can be written out or sent as an audio file.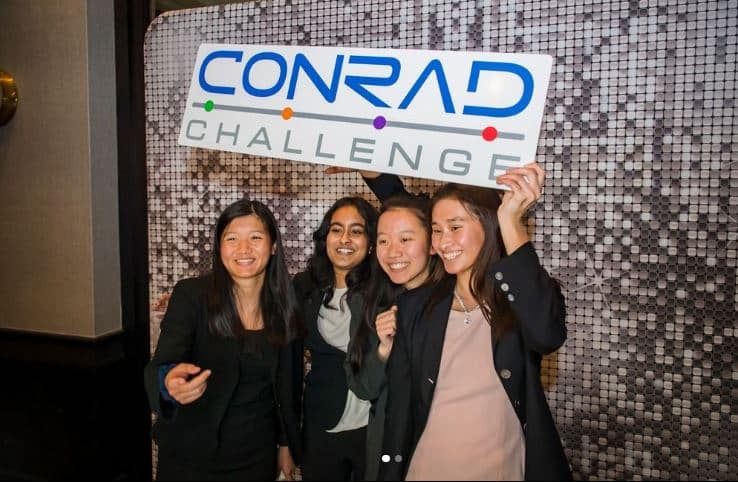 The Conrad Challenge is a science and technology-focused multi-phase innovation and entrepreneurship competition, in which students compete to solve problems with global impact. 
Registration opens in August, costs $399 per team, and is made available to students ages 13 through 18 from around the world. There will be teams of two to five students with a coach or supervisor who is 18 or older. 
Participants must tackle a solution for a problem in one of the following categories: Aerospace & Aviation, Cyber-Technology & Security, Energy & Environment, Health & Nutrition, Transforming Education Through Technology, Smoke-Free World: Eliminating & Reducing Teen Vaping, and Smoke-Free World: Repurposed Farmlands & Tobacco Crops. 
The competition operates in multiple rounds, with Round 1 as the Investor Pitch, Round 2 as the Business Plan, and Round 3 as the final Innovation Summit in April. In each category, the winning team will be named a Pete Conrad Scholar, which may also include scholarships and discounted access to entrepreneurial resources.
GENIUS Olympiad (Business) is an international social responsibility competition for students in grades 8 through 12. Students can submit projects in a variety of categories, including Science, Writing, Business, Robotics, Art, Music, and Short Films, with more categories to come.
In the Business category, students write a business plan describing their pro-environmental venture idea. Business category participants can be teams of one or two students. They must submit a business plan of 15 pages or fewer, including a 2-page executive summary.
Projects must be presented as business pitches to the group of judges, using a PowerPoint or Prezi presentation and must be no more than 10 minutes. Students are encouraged to bring prototypes, models, or mock-ups of any product or technology described in the presentation. These are skills that you can build when you take a course with Beta Bowl.
Finalists are invited to attend the GENIUS Olympiad event at SUNY Oswego, NY, which includes a three-day NYC trip and an Ivy League college tour after the finalist Olympiad event. Five tiers of awards are given, with the Top Grand Gold Award given to the top winner in each category. Various awards include monetary prizes and scholarships, such as the Genius Scholarship Certificate, which offers up to $10,000 of SUNY Oswego University Scholarship.
 Registration does cost $50 per project, and finalists must pay another $160 to attend the GENIUS Olympiad event. Initial applications must be submitted between December and March, and finalists are named in March, with the final competition event to follow.

The Paradigm Challenge is a sustainable entrepreneurship competition for students ages 4 through 18, separated into three different divisions by age group. Students can participate in teams of any size, and they must choose a challenge category to compete in from the following options: Home Fires, Waste Reduction, Personal Health, Food Security, or Biodiversity.
 Prizes range from $200 for finalists to $10,000 for challenge category first-place winners. Registration is free, and the deadline to enter is usually in early May. 
Judges selected the top 100 entries as finalists, among which are awarded first, second, and third-place prizes in each age group. Up to four team members in each age group's top entry receive a four-day trip to Los Angeles to attend The Paradigm Challenge Prize Ceremony. 
The FCCLA Virtual Business Challenge focuses on personal finance, encouraging FCCLA members to test their skills in a variety of simulations. FCCLA members develop "skills for life" through character development, critical thinking, creativity, interpersonal communication, and career preparation. 
There are three rounds, including the National Championship Round for qualifying teams. Scores are automatically uploaded onto the website and teams can visit the ranking's page to see where they are nationally and by state. The winner of each challenge will get website recognition. The winners also receive cash, with the first prize getting a $1,000 prize. 
The Technovation Challenge is a technology-focused entrepreneurship competition for girls between the ages of 10 and 18 who are members of Technovation Girls. 
Students may participate in teams of one to five girls, and students may participate multiple times. Registration takes place between October and March, with the competition submission in April. 
Regional pitch events and online judging occur between mid-April and mid-May, and the semifinal online judgment occurs in June. The challenge culminates in the Technovation Global Summit occurs in August.
 While Technovation does not teach girls to code, students will develop an understanding of some basic computer programming principles throughout the program. The goal is to create a functional mobile app prototype on an app-building program. 
The DECA Idea Challenge is a unique entrepreneurship competition. It prompts students to come up with an innovative use for a commonplace item with just a few days of brainstorming. 
This competition occurs in November and requires students to think on their feet. The mystery item they must brainstorm around is not revealed until the date of the challenge. They're only given days to brainstorm their idea and pitch the invention in a three-minute video presentation. 
While this competition is open to high school students around the globe, the downside is that they must be a DECA member. That means they must have a local chapter or attempt to start one themselves. 
Check out Beta Bowl for entrepreneurship courses that can boost your skills.
High schoolers of any grade level must seek to find new ways to support the transition to sustainability to participate in the Imagine Tomorrow program. Students from 9th to 12th grade will research complex topics related to sustainability with the goal of coming up with technologies, designs, and plans to make the idea come to life. This national program connects students to their communities in hopes of creating positive change. 
The volunteer judges will evaluate the projects based on five categories in the Judging Criteria. They can give between 0 and 5 points on their objective, creativity, inquiry, thoroughness, and presentation, with the highest total score being 25. In order to win, a project must not only be viewed as having high enough quality to merit a ranking, but the majority of the judges must genuinely like and believe in the project. 
There are also special awards given out, based on recommendations from the panel of judges. Each judge nominates a project for each special award and the project with the most votes for a category wins. They are innovative, likely to succeed, community impact, global impact, and teamwork. The inspirational specialty award is given to a team that has gone through hardships or challenges. 
The FIDM Entrepreneur of Tomorrow Challenge is another unique DECA competition. It prompts students to present an entrepreneurial proposal for a new product idea for a specific market segment. These segments can include clothing, beauty, home, health, food, or entertainment. 
Participants are responsible for submitting a four-minute (or shorter) video presentation describing their target market, the product they're offering, and the market potential, including a pricing and distribution plan, and a marketing launch strategy. 
Participants can be teams of one to three members of a DECA chapter, and teams must spend no more than $25 to create a prototype and develop their marketing and distribution strategy.
 FIDM (Fashion Institute of Design and Merchandising) will review all submissions and select three top finalists, and from those finalists, an overall winner will be selected. 
The challenge is announced in August, the registration deadline is in early February, and the top three teams are announced in March. The top three teams will then travel to ICDC in Nashville, TN in late April or early May to pitch live, from which the overall winner is chosen.
Tips for Succeeding in an Entrepreneurship Competition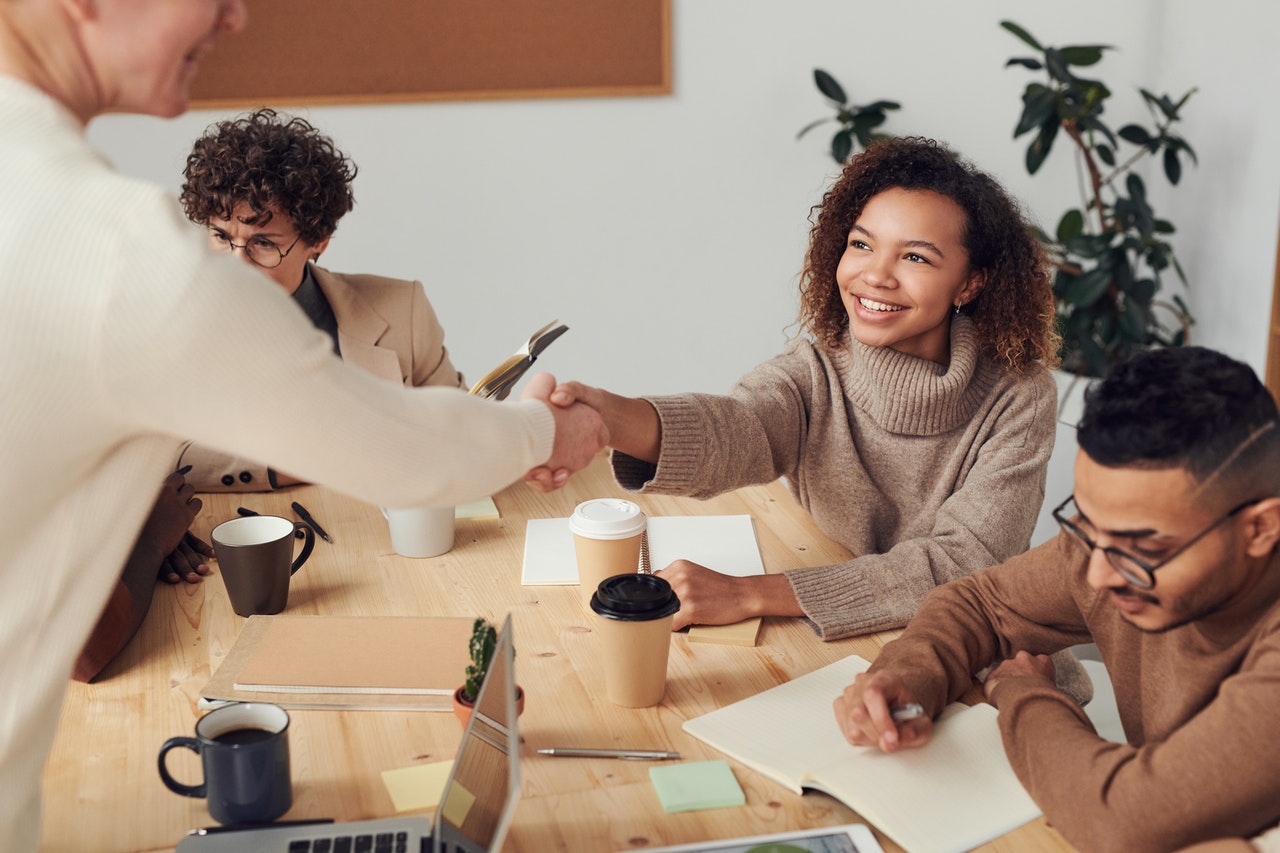 Succeeding in an entrepreneurship competition isn't all about business experiences or financial knowledge. There are a few areas to focus on for a higher chance of success. 
These competitions consider the feasibility of an idea, the impact it makes (does it solve a problem), and how well and persuasively you can convey this idea's overall growth potential.
 Judges want to see that you've taken every potential challenge and obstacle into account and have addressed that or found ways to mitigate them in your presentation. Judges also want to see that you aren't blind to the competitors or substitutes out there. They need to believe in the unique competitive advantage that makes your idea worthy of sales (and good enough to stand up to or tower over the competitors). 
Additionally, in most cases, judges want to see that you've thought out the financial side of your business. The idea is to know what it takes to turn a profit, obtain the investment capital required to get started, and a realistic projection for future financial growth. 
Some competitions provide educational business resources that help participants develop their business plan or pitch deck, but many more don't. The best thing you can do, as an entrepreneurial student and competitor, is to take it upon yourself to learn each vital step of starting, launching, and growing a business. 
You can do this through books like The Lean Startup, educational videos, free online business-building resources, or through dedicated programs that take you through each step of building a business.
 Programs like Beta Bowl, for example, are sure to give students a leg up in these competitions since they equip students with the lessons, resources, tutorials, templates, and individual mentorship to take their idea from inception to launch. 
If you want to prepare to knock one of these startup competitions out of the ballpark with your submission, your best bet is to first go through a program like Beta Bowl. With this program, you can learn how to build a business, ask your mentors any questions you have,  work out all the kinks, and then register for the competitions out there! 
You'll also be able to participate in the Beta Bowl Pitch Competition along the way. That way, you can use your feedback from that competition to tweak or improve your idea. After that, you can put it in a start-up competition, and get ready to win.
Check out Beta Bowl for enriching business courses to give your high school teen a competitive edge.
Conclusion
Startup competitions are a great and educational opportunity for students to get real-life experience of planning out and presenting a business or pitch deck. Whether your child has an interest in saving the planet or becoming a clothing designer, there are competitions for every type of aspiring entrepreneur. 
Participation in these competitions will help your kids develop a wide range of skills, from creativity to analytical thinking, problem-solving, and public speaking, among many more. The more kids and teens get exposed to entrepreneurship, meet like-minded peers, and have the real-life experience of putting their ideas into action, the better prepared they'll be for a successful future. 
Keep in mind that competitions aren't the only way to expose children and teens to entrepreneurship. Business-building programs like Beta Bowl equip adolescents and teens with the skills, entrepreneurial toolkit, financial knowledge base, implementation, marketing, and pitching experience they need for success. All of these factors are vital to encourage kids to become real entrepreneurs, businesspeople, and change-makers in the future. 
There's genuinely no skill more valuable for youth today than an entrepreneurial one. Most parents would agree that kids and teens deserve access to the best resources to foster their success.
Related: About Beta Bowl