AS FEATURED IN:
We've had over 450+ students successfully complete our programs and build businesses in the past few months!
Of those students, over a dozen have been featured in the press. Some of our students have:
Gone on to top colleges, gained substantial scholarships, been accepted to prestigious entrepreneurship programs (Stanford's Summer Session, Drexel's LeBow Camp Business), and won over $40k+ in business and pitch competitions!
Others have started multiple businesses, even non-profits – one student used her Beta Bowl experience to begin a literacy-related non-profit that's already donated over 69,000+ books to students in need and gotten 1,000+ volunteers involved – in just the past six months! Alana's impressive philanthropic contributions have been headlined in The Chicago Journal, ABC7 (2x), The Kelly Clarkson Show, Los Angeles Daily News, LA Wire, The San Francisco Post, California Herald, VoyageNY, and more!
One student turned her passion for slime into a 5-revenue-stream, 80% profit margin business and was profitable during the program and was featured in The Chicago Journal!
Another student used Beta Bowl as inspiration to fuel her science-related pursuits, and was recently featured in Forbes, herself! Raina went on to win over $25k+ in national competitions, launched a business around her patented invention (the varroa mite entryway to protect the vulnerable honeybee population), HiveGuard, to 4,300+ pre-orders, and while her invention undergoes global testing, she's launched a second business, QueenBee, which she's already successfully gotten onto Whole Foods shelves!
Our former student, Raina, was also awarded the Peter Thiel Fellowship, as one of its youngest recipients, receiving $100,000 towards her entrepreneurial pursuits and 2 years of mentorship from the Peter Thiel Fellowship network (sponsored by billionaire venture capitalist and co-founder of PayPal, Peter Thiel). The Peter Thiel Fellowship is widely regarded as the most prestigious youth-focused entrepreneurship award globally.
Recent former student, Alex, was named a quarter-finalist in the Code Launch competition for her B2B and B2C gamified marketing and shopping app (featured in Market Daily). She was subsequently accepted into UPenn's selective (application-only) summer business leadership program.
Krish, a recent Beta Bowl graduate, is merging his passion for computer science and technology with his newfound entrepreneurial skillset and aiming to turn his facial recognition software project into a B2B business to help out schools, hospitals, and brick-and-mortar stores operate during the pandemic. He was recently featured in Business Insider and Yahoo Finance along with Alana, our literacy-focused student.
Justin, a social-media-savvy student with a large following went on to build a video editing and branding company and has since acquired 8 large clients, edited over 200 videos, and amassed over 5 million views for those clients – you can read about him in the American Reporter here.
We've also been fortunate enough to hire on three of our former students as interns, who have spearheaded some very cool new products at the intersection of entrepreneurship, entertainment, games, and education…more to come on these in the future! Arun, our lead intern, was featured in The US News!
Former Beta Bowl pitch competition co-winner, Varun, has gone on to partner with a few freshmen peers to build and launch a trading indicator and quant trading bot, under their company Focus Group Equities, and in just a few months, they've already amassed 3,000 monthly paying subscribers! You can read about Varun and Focus Group Equities in Business Insider!
Some students have even built businesses with a charitable component and to address a newly-emerging need during these challenging and disruptive times in our world – including a mask-decorating subscription kit for immunocompromised children…and the list goes ON!
Beta Bowl teens learn the valuable skills to build a business, at a time when entrepreneurship may be the best job security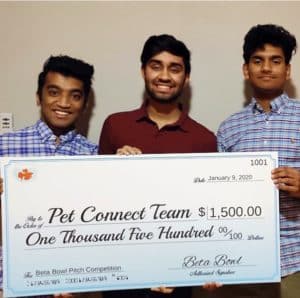 Update on our Fall 2019 Beta Bowl Pitch Competition Winners: After winning Beta Bowl with their PetConnect business, Arun, Varun, and Srihari submitted their Beta Bowl pitch deck to subsequent competitions…and they were announced as finalists in the University of Houston Think Tank 2020 Business Plan Competition, and went on to win over $15k+ in other startup & pitch competitions!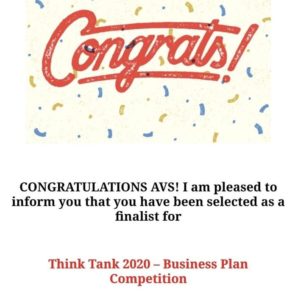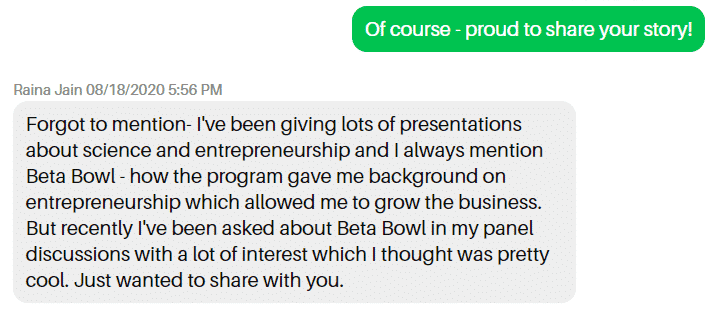 Click below ↓ to play the video

 to hear what students and parents say about their Beta Bowl experience!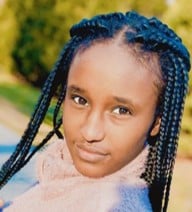 "I thought it was going to be a cool learning experience and it was, but it was way more than I expected. This class is a great way to put your ideas in place and really understand how to run a business."
– Aster H., MD
High School Sophomore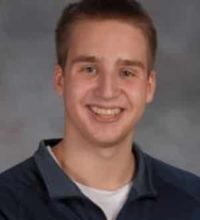 "I came into this program having no idea where to start; just weeks later I have a business that's almost ready to launch."
– Jordan K., MA
High School Junior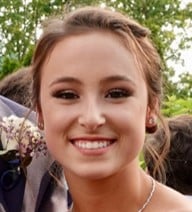 "It was amazing to be able to learn more about making my own product! At first, I was nervous, considering I did not have my idea to start off, but this was an awesome experience!"
– Cara G., NJ
High School Freshman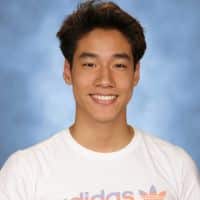 "Beta Bowl is a great experience for anyone wanting to learn what it takes & how to start your own business."
– Andrew Z., MI
High School Senior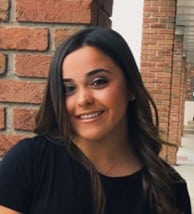 "I was very impressed with how accessible my Beta Bowl mentors were and willing to answer my questions at any moment."
– Sydney S., NJ
High School Junior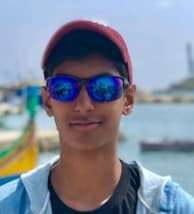 "I enjoyed every step along the way and learned a lot from this course. Through Beta Bowl, my eyes opened to the world of business and I am more interested in learning the field."
– Saketh K., VA
High School Sophomore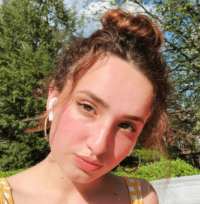 "It was a lot more helpful than I expected. I really enjoyed it, and I would def recommend it."
– Rachel E., DC
High School Freshman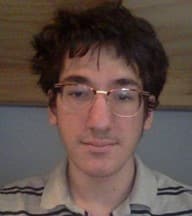 "When I entered, I wasn't expecting much, but they completely blew me away with how focused and targeted it could get. I would take it again."
– Nathan F., NC
High School Sophomore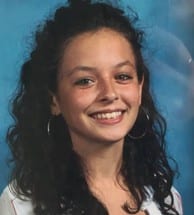 "Beta Bowl is a great business and overall financial learning tool with fantastic resources that also last you a lifetime."
– Sydney SH., TX
High School Junior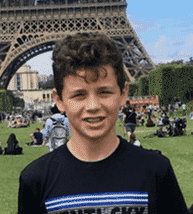 "I learned so much over a short period of time and I recommend it to any teen interested in business who wants to learn more."
– Joe H., OH
High School Freshman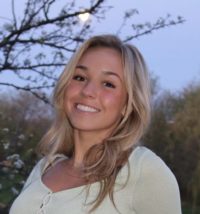 "Any teenagers looking to become an entrepreneur should go through this program before jumping right into starting up their business."
– Morgan D., IL
High School Junior