Parents: Make the MOST of your teen's time at home!


Your teen has the gift of TIME. Use it WISELY.


Be a positive influence on your teen and help them stay focused on the future!
Enroll in the

#1 Virtual Enrichment Program

for motivated teens and give them a unique online, interactive, business-building experience that will also be a great resume booster and college application differentiator.
(Plus, teens will learn the valuable skills to build a business, at a time when entrepreneurship may be the best job security)
What if you could secure your teen's future, by giving them the tools to succeed in school, business, and life?

What if you could give them real-world enrichment that teaches them to understand, evaluate, and build businesses, from analytical thinking to financial modeling?What if they could come away with a custom recommendation letter to differentiate them on future college applications and for jobs and internships?
What if your teen could get all this from the comfort and safety of their own home, around their own schedule?
With Beta Bowl, that's exactly what we provide teens, and more!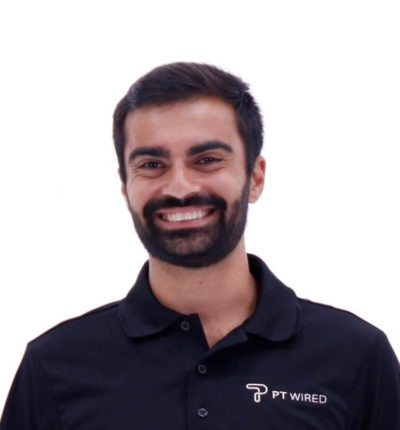 "As an entrepreneur who graduated with a business degree, I wish I had been lucky enough to participate in a program like Beta Bowl, which would have given me a real leg up on starting my first business. Kids need this, and the earlier they learn entrepreneurial skills, the better."

– Vikram S., Founder & CEO at PT Wired
Virtual Online Entrepreneurial Enrichment Program teaches teens how to build businesses!

Beta Bowl provides teens with an impressive, outcome-focused extracurricular, weekly calls and individual assistance (group and 1-on-1), and students come away with a wealth of knowledge, an impressive resume booster, a Successful Completion Certificate, and a College Recommendation Letter…
(and

feedback from real investors

+ the

chance to win up to $1500

from the Beta Bowl pitch competition)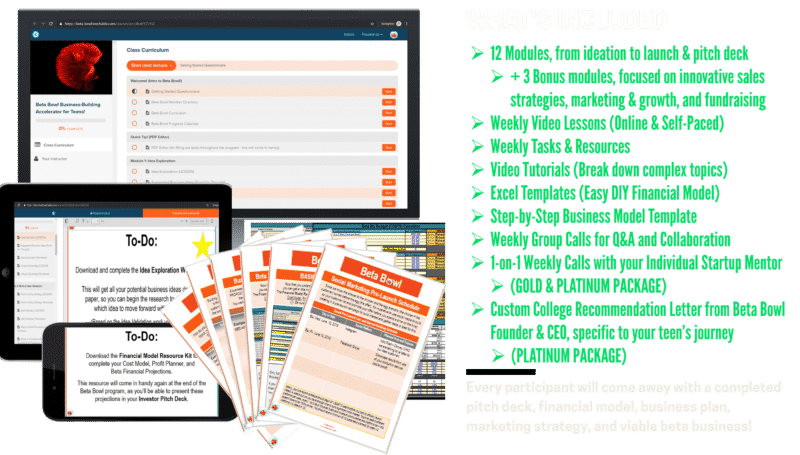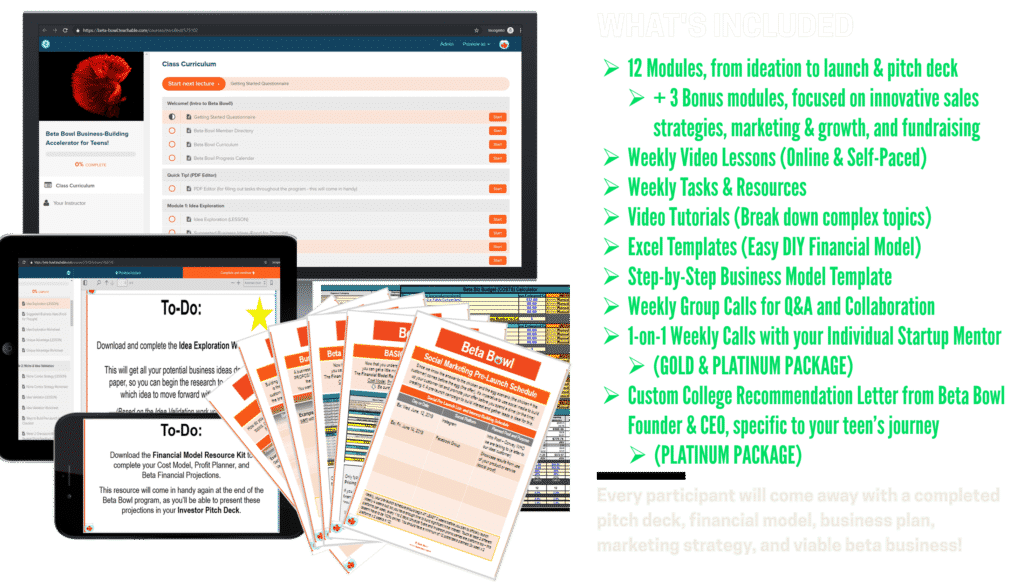 We offer 3 packages, to fit every parent's budget and preferences, ranging from a self-paced session with weekly group calls to a premium package with 1-on-1 help every step of the way, including an individual startup mentor for weekly calls and 24-hour assistance, and a customized college recommendation letter from the Beta Bowl founder, specific to your teen's journey and progress. 
Don't take our word for it –
read what other students, parents, and professors have to say!
"My mom [Former Vice Chancellor of a Top Public University] would 100% have wanted me to do that. I mean, she'd pay more for something like Beta Bowl than for an SAT tutor or college prep counselor."

– Alex M., College Sophomore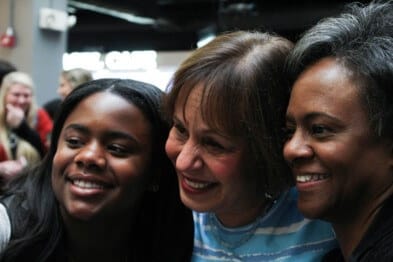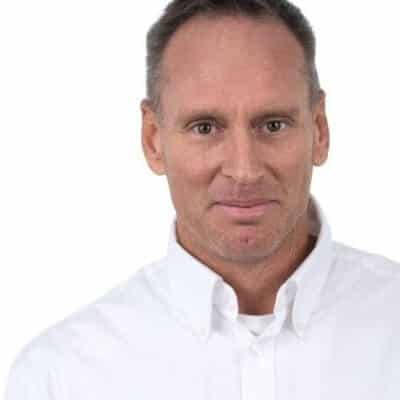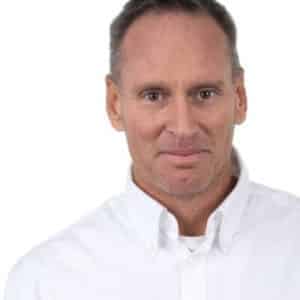 "As an athletic coach and a dad, I know how important getting into the right college is. I also know just how valuable business and entrepreneurship skills are to our kids' futures and careers. I'd recommend Beta Bowl to any and all parents out there. "

– Ron U., Father and Former Baseball Coach
"I did a similar program the summer prior to Beta Bowl, and the biggest difference with Beta Bowl is that we get so much more 1-on-1 help on the calls. Also, the college recommendation letter aspect is really cool – the fact that it's personalized to each student's journey is a big plus.

Parents don't always realize how important recommendation letters are

, but

had I known the letters would be customized like that and would highlight my strengths and progress throughout Beta Bowl

, I would've 

definitely taken advantage of this opportunity

."

– Raina J., High School Junior and Beta Bowl Student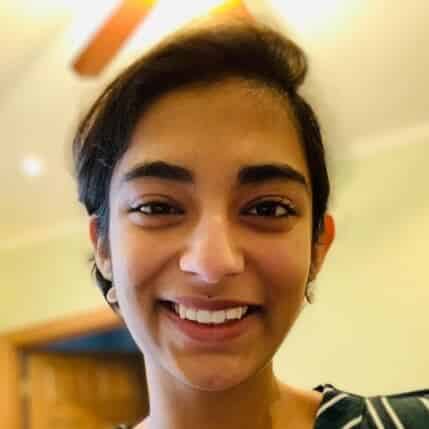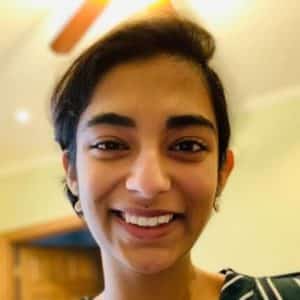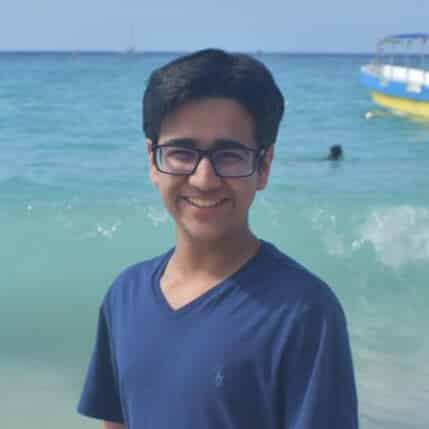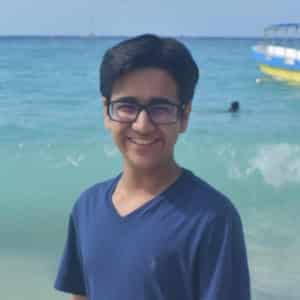 "The calls are really helpful, especially the 1-on-1 guidance. The group calls are also helpful to get feedback from other peers.

I was looking for a program like this, and some of the comparable ones were $8k or more

, so Beta Bowl was a no-brainer. "

– Zaid A., High School Sophomore and Beta Bowl Student
"I'm going into music production, but

I know a ton of business students who would have LOVED to do that

. Also, getting into college is super competitive these days, so I think for the recommendation alone, it would be worth it."

– Natalie S., College Senior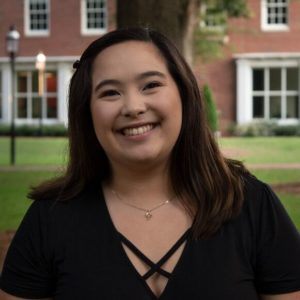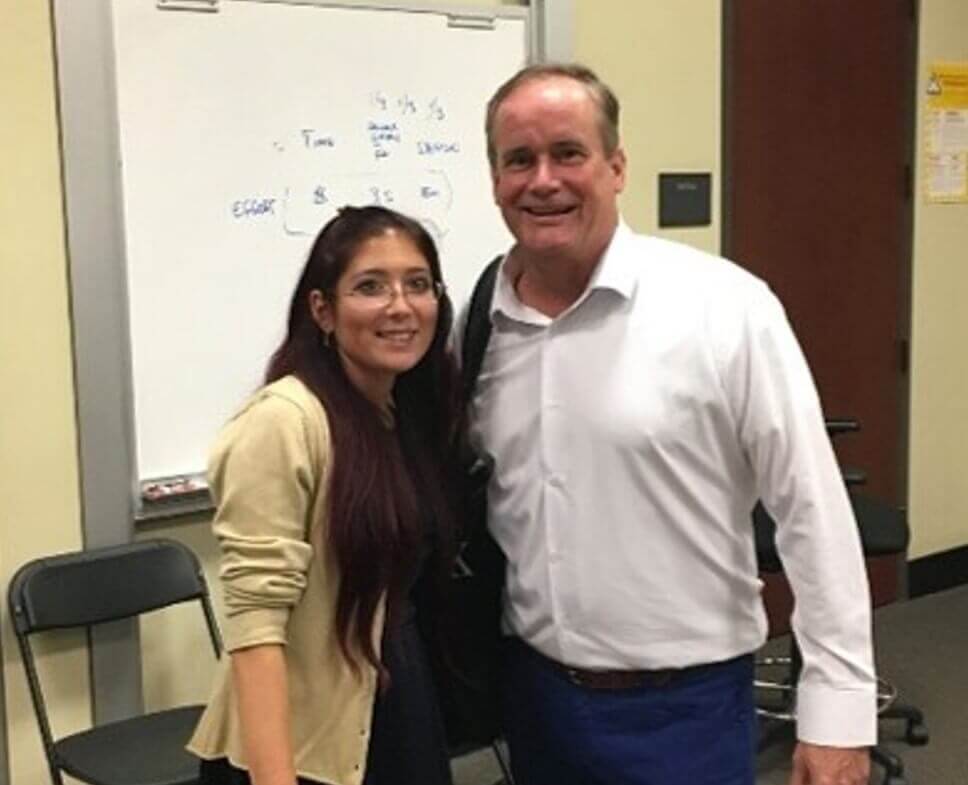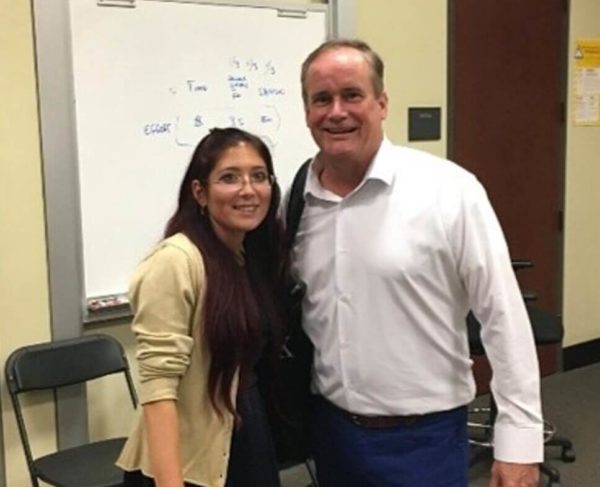 "My ears perked up when I heard the college recommendation. I have a daughter who's a junior in high school, and that's all we're worrying about now. I paid over $10k just to have her go to a summer program for acting so she can get a recommendation from the acting coach. I would have EASILY paid $3k or more for Beta Bowl and the college recommendation letter for her. "

– Jim K., Professor of Entrepreneurship, Father, Entrepreneur, and Angel Investor
"This is the type of program that kids need before they go to college. Not only for the college recommendation – sure, that's a cherry on top, but also

building a real business

. These are skills kids don't get in school."

– Tina M., Mother of two and Registered Nurse