Limited Edition: Beta Bowl, The Game – the #1 Entrepreneurship & Venture Capital Educational and Experiential Game for Adolescents, Teens, and Adults!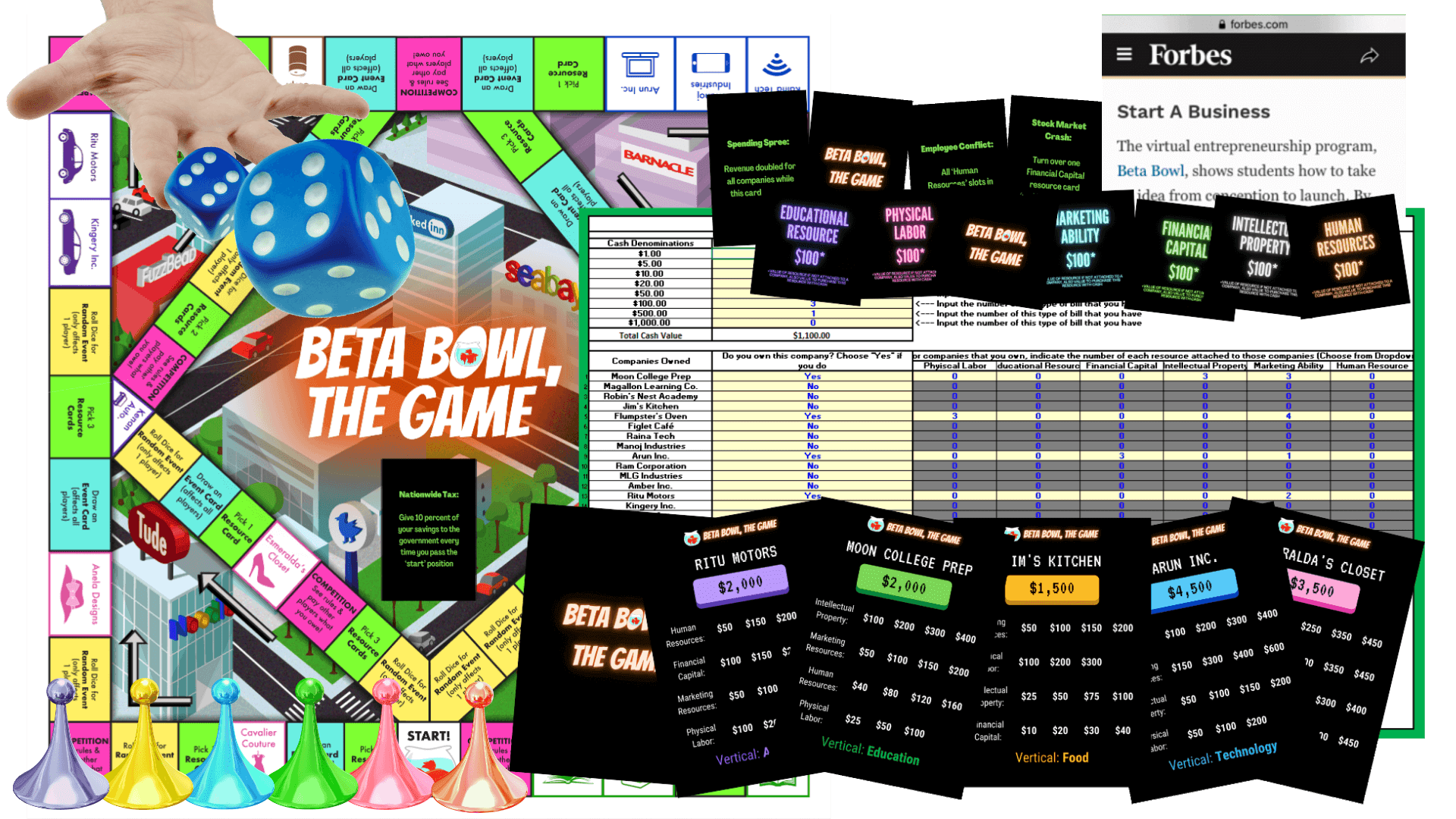 Learn what it takes to build, grow, and sell companies, and operate like a real CEO and Venture Capitalist with the Limited Edition Beta Bowl Game. Brought to you by the  creators of the

#1 Virtual Enrichment Program

 and college application differentiator.
AS FEATURED IN:
Beta Bowl, The Game is a fun, experiential way to test your skills and business strategies as you build your empire, playing against friends and family.
Plus, you'll learn the valuable skills to build a business, at a time when entrepreneurship may be the best job security.
Why wait until college (or later) to learn how to build, grow, acquire, value, and sell companies?
You don't need to risk hundreds of thousands of dollars to get the entrepreneurial and venture capital experience…
with Beta Bowl, The Game, you can have the experience of being your own CEO and Venture Capitalist, from the comfort of your home!
Beta Bowl, The Game is the fun + educational + interactive game that seamlessly teaches players of all ages how to build, grow, acquire, and sell companies – no MBA required!

Practical Application is the BEST Method of Education (for Knowledge Retention), and that's exactly what players do!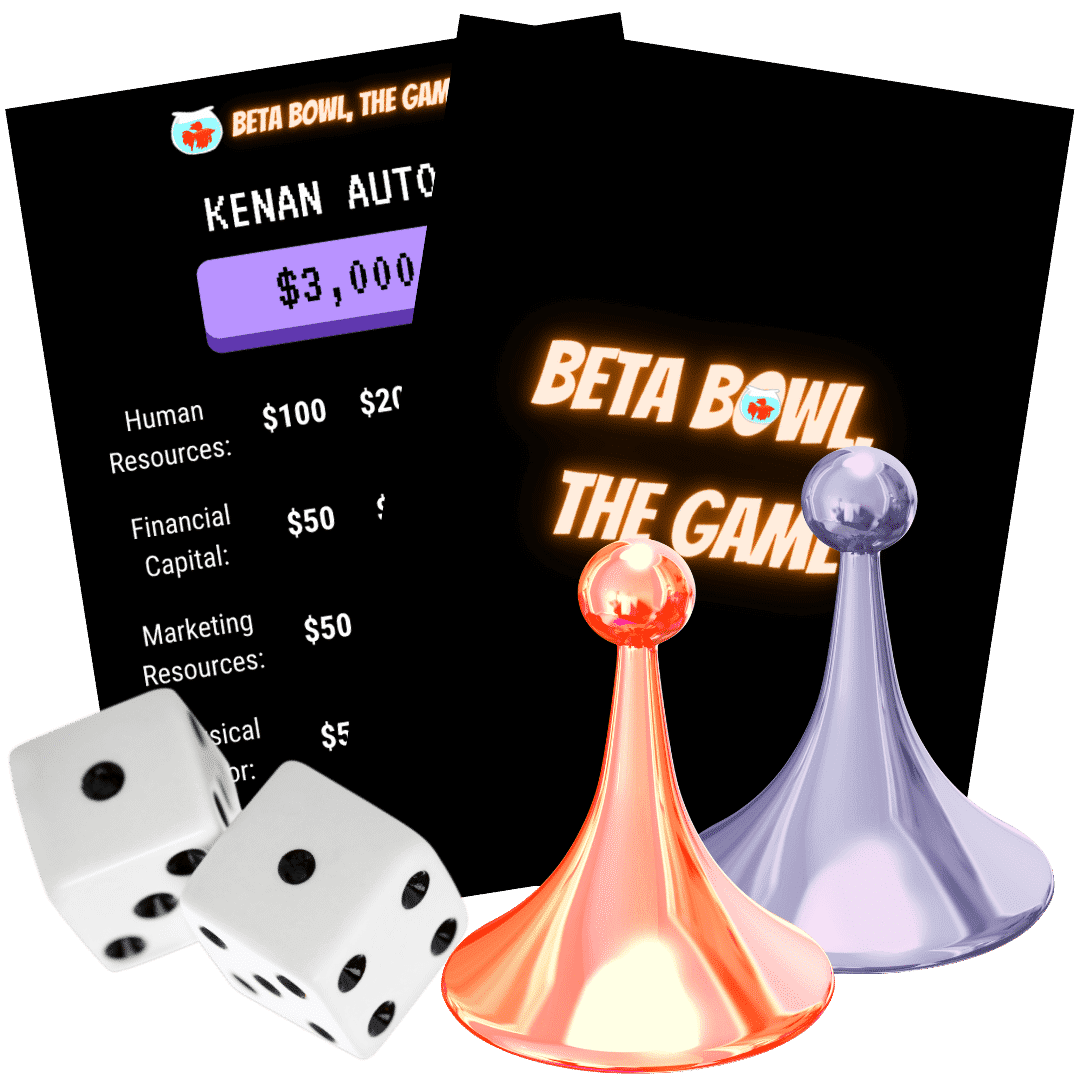 Grow and Acquire Companies as you Move Around the Board
Think like an entrepreneur and venture capitalist to maximize the value and cash flow of your assets

Decide which resources to gather as you prepare to build and grow your companies

Build up your cash reserves and acquire other companies in your industry

Determine when it's best to grow, acquire, or sell a company to maximize your net worth

Become a mogul in the industry of your choice, from tech to education, oil, auto, fashion, and food
Acquire all the companies in your chosen verticals and reap the benefits of those synergies!
Choose Your Best Course of Action Among Unforeseeable Outside Circumstances and Disasters – How Will You Fare?
Prepare your companies with enough resources and cash reserves to deal with the unexpected

Business is a mix of strategy and luck, and how you use or react to those situations that befall you

Experience the highs & lows of real-world scenarios and their impact on your assets, cash, & revenue

Learn to prepare for, cope with, and recover from the most surprising of circumstances, as the game mimics real-life decisions faced by aspiring entrepreneurs, seasoned CEOs, and venture capitalists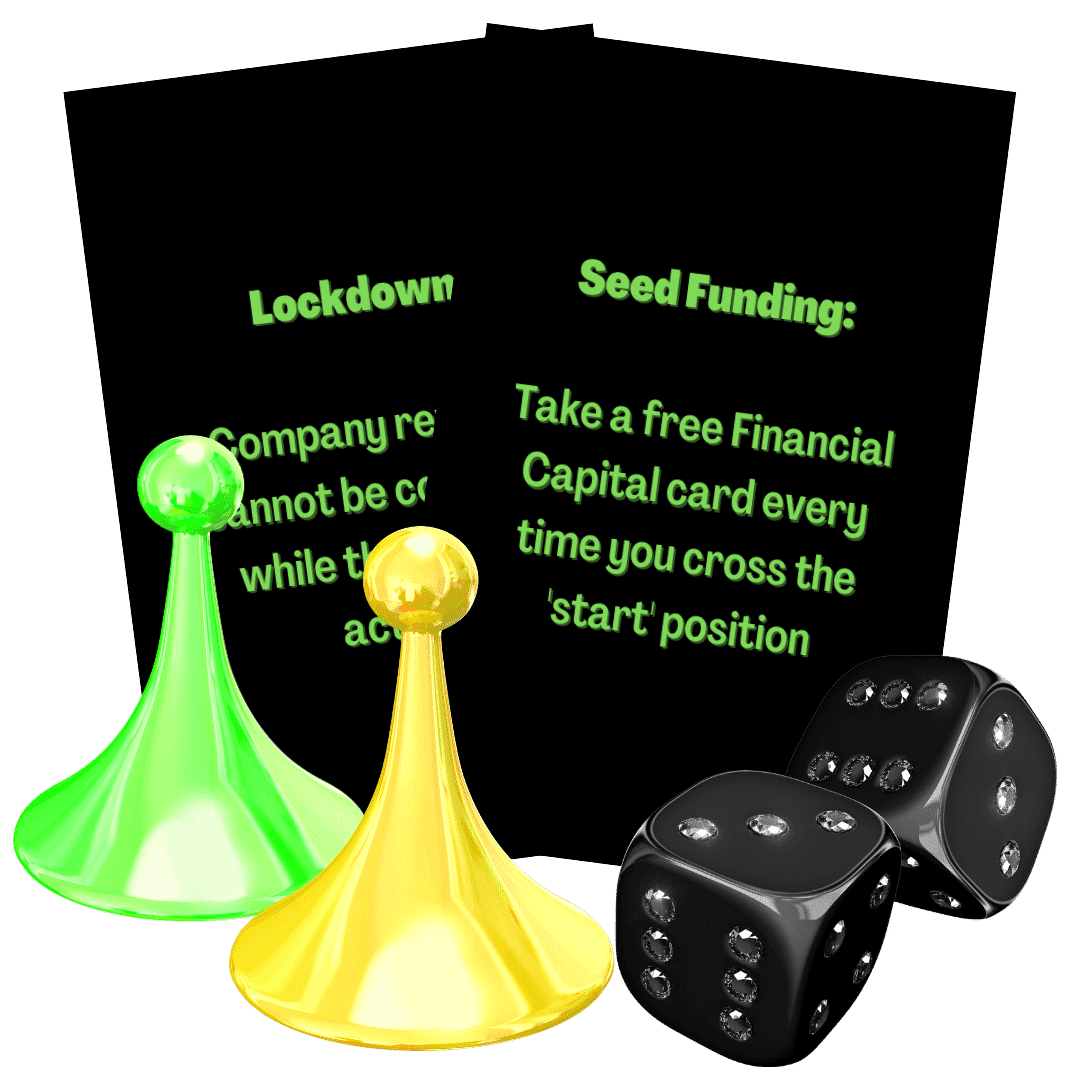 What if you could build, grow, sell, and acquire companies, all from your own living room? How will you and your companies deal with a natural disaster?
What resources do you need to buy or utilize?
Are you prioritizing your cash to result in the best ROI for your companies?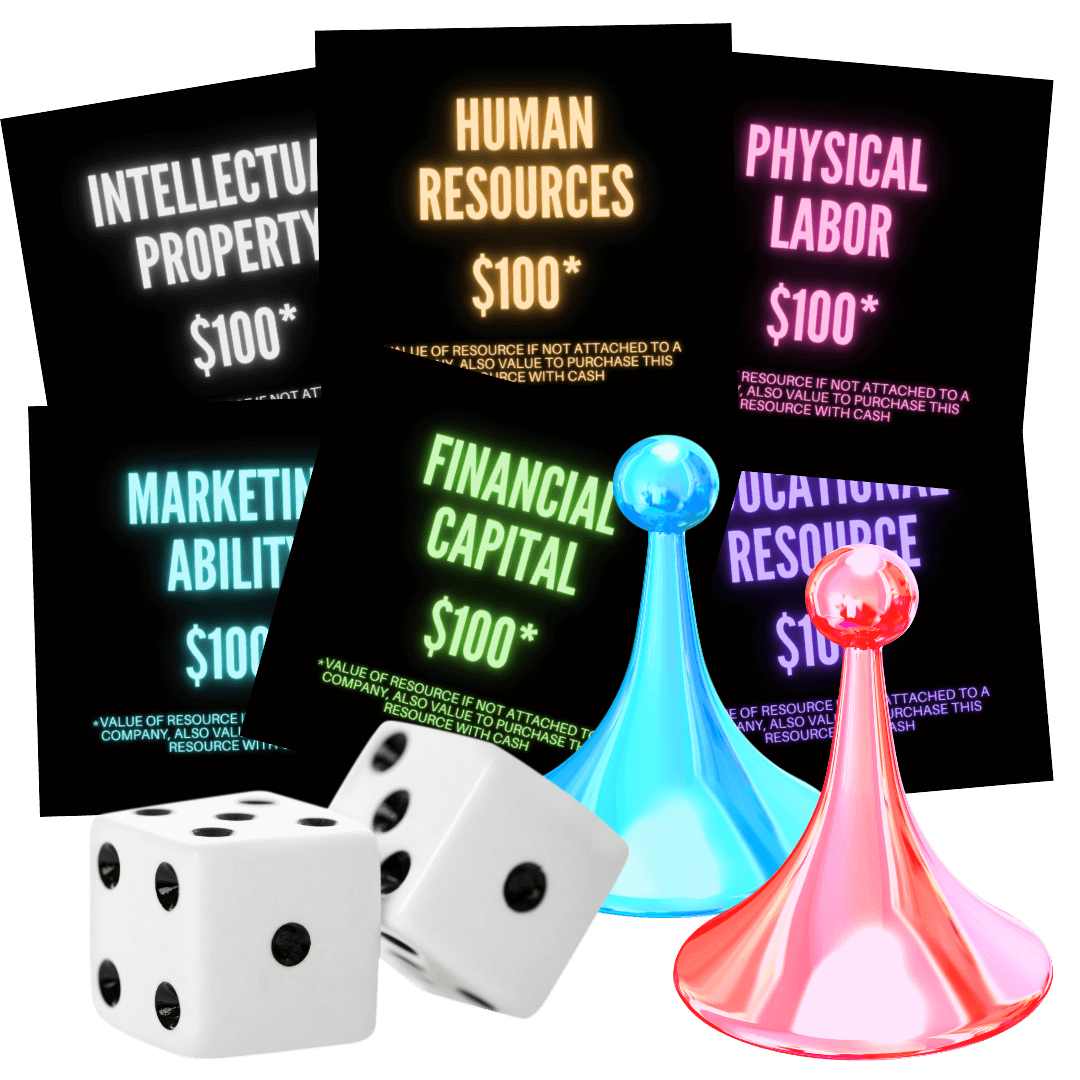 Build Up Your Arsenal of Valuable Resources to Equip Your Companies to Weather Every Plot Twist & Storm and Still Come Out on Top!
Predict which resources will yield the greatest return on investment for your companies & industries

Purchase or trade resources with other players, in the aim to maximize your companies' revenue

Determine which companies to attribute each resource to, and which are worth more via sale or trade

See the multiplier effect of scale in action, as amassing a high volume of certain resources results in leaps in your company valuation
Maximize Your Companies' Valuation, Own an Empire in Your Industry, and Determine the Total Value of Your Companies + Cash + Resources!
Just a few hours of game play will expose players to various finance and business-building concepts, and players won't even realize they're learning as they go!
Seamlessly learn about concepts like company valuation, revenue generation, and cash management

Fun, real-world simulation is a mix of strategy + chance, & the experience is different every time!

Multiple options to heighten the challenge, from winning scenarios to the chosen board path 

Each decision players make has an impact on their firm's cash flow, net worth, and eventual outcome

Hands-on experience of building, selling, & acquiring businesses, thinking like an operator & investor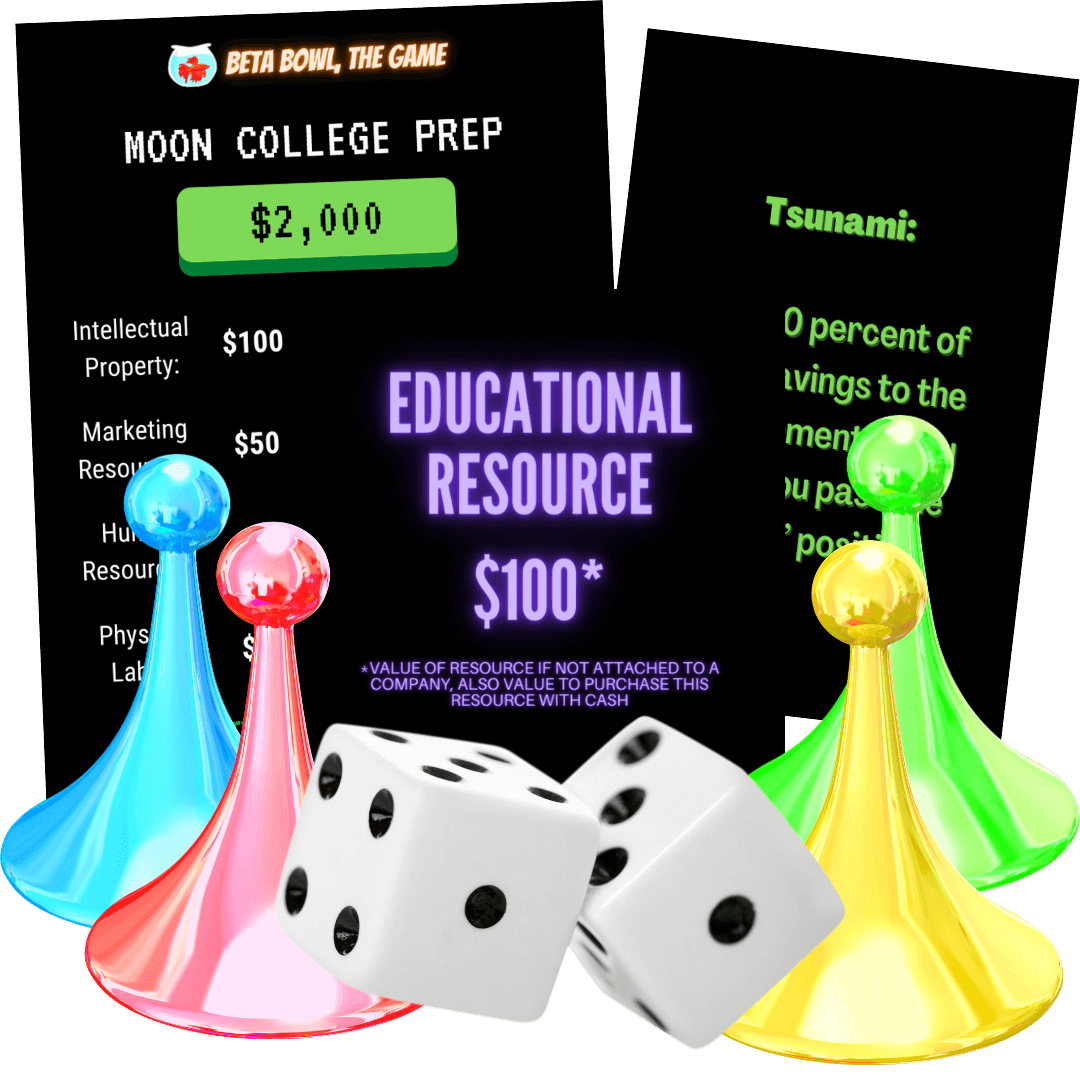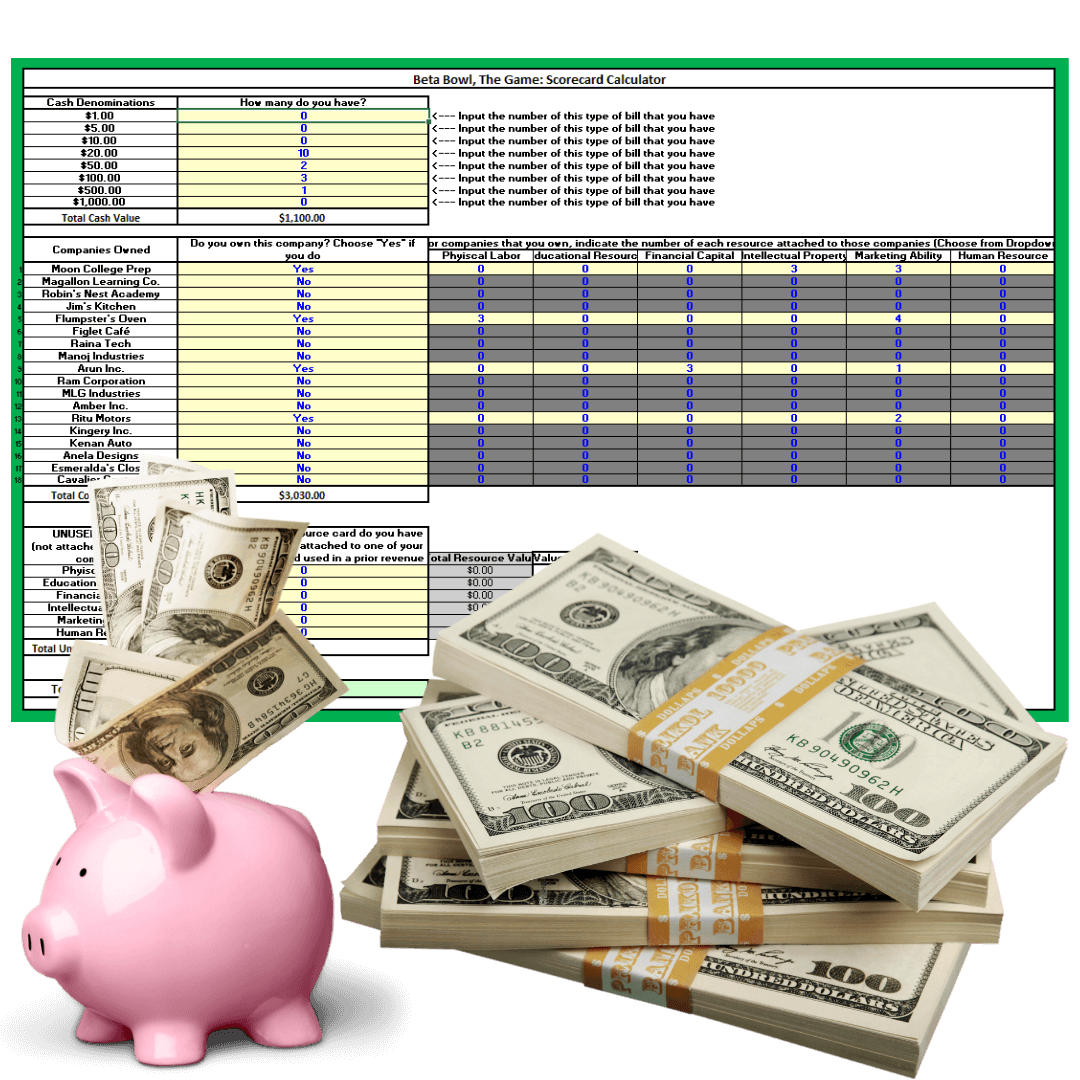 Digital Score Card Keeps Track of All the Math for You, Making Complex Topics (Resource Allocation, Revenue Calculations, Biz Valuation) Easy to Comprehend!
Most people don't learn about company valuation until or unless they work in M&A, take an MBA-level finance course, or land a job in Venture Capital. However, these business and financial concepts and principles shouldn't be a secret, and they don't have to! With Beta Bowl, The Game, people of all ages can gain experiential exposure to business through both the CEO and VC perspective, and our team will be there to answer any questions and clarify, as you go.
Beta Bowl is an educational entrepreneurship company first, and every product we offer aims to further our customers' knowledge and understanding of entrepreneurship, business, finance, and venture capital, so we're here as you need us!

This is the first and only entrepreneurship + finance + venture capital educational game brought to you by the creators of the #1 entrepreneurial education program for motivated aspiring entrepreneurs all over the country!
The Game is a mix of strategy, chance, practical decision-making, and simulates real-life business-building, owning, and selling experiences!
With Beta Bowl, The Game, you'll do just that and more!
Purchase Now: Beta Bowl, The Game
The #1 educational entrepreneurship game created for aspiring, inquisitive, entrepreneurially-curious people of all ages!
FROM THE #1 ENTREPRENEURIAL ENRICHMENT COMPANY EQUIPPING FUTURE CEOS
Join other students interested in building businesses, understanding startups, and becoming future entrepreneurs.
ATTENTION: Beta Bowl, The Game is a One-Time, Limited Edition Product (100 Copies Produced)
We're offering a limited time discount for those who purchase by December 31, 2020; Apply the coupon code "LIMITEDEDITION20" and get 20% OFF the Game price, plus FREE SHIPPING (US Only)
(available while copies remain)
If you purchase after December 31, the coupon will no longer be valid and the price will return to $79.99 (+ Shipping)
Use the green purchase button below to secure your limited edition (signed and numbered) copy of Beta Bowl, The Game, and apply the coupon code "LIMITEDEDITION20" for an additional 20% OFF and Free Shipping before December 31.
(WHILE COPIES ARE STILL AVAILABLE)