Give your teen the tools to succeed in school, business, and life!


#1 Virtual Extracurricular for motivated teens –

As featured in Forbes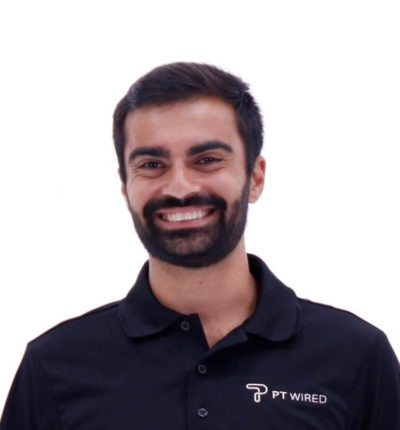 "As an entrepreneur who graduated with a business degree, I wish I had been lucky enough to participate in a program like Beta Bowl, which would have given me a real leg up on starting my first business. Kids need this, and the earlier they learn entrepreneurial skills, the better."

– Vikram S., Founder & CEO at PT Wired
The #1 Virtual Entrepreneurial Enrichment Program for Teens
Secure Your Teen's Future by Giving Them the Tools to Succeed in College, Business, and Life!
(Enrollment Subject to Availability)
Virtual Online Entrepreneurial Enrichment Program teaches teens how to build businesses!

Beta Bowl provides teens with an impressive, outcome-focused extracurricular, weekly calls and individual assistance (group and 1-on-1), and students come away with a wealth of knowledge, an impressive resume booster, a Successful Completion Certificate, and a College Recommendation Letter…
(and

feedback from real investors

+ the

chance to win $1500

from the Beta Bowl pitch competition)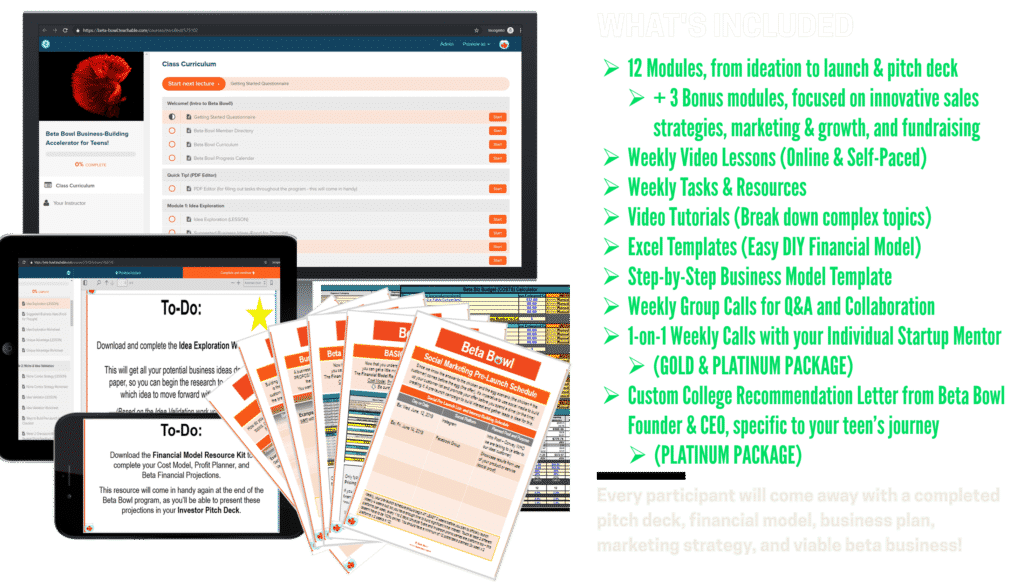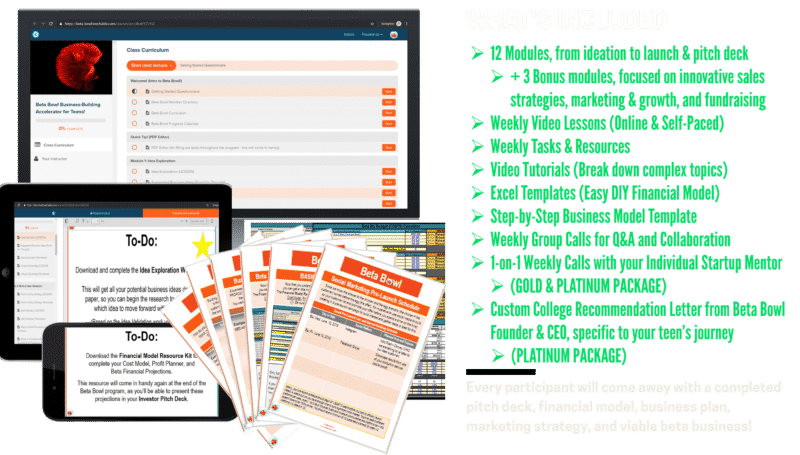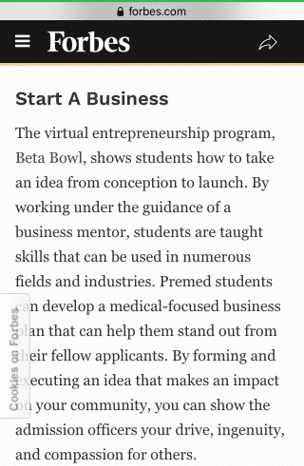 We offer 3 packages, to fit every parent's budget and preferences, ranging from a self-paced session with weekly group calls to a premium package with 1-on-1 help every step of the way, including an individual startup mentor for weekly calls and 24-hour assistance, and a customized college recommendation letter from the Beta Bowl founder, specific to your teen's journey and progress. 
Don't take our word for it –
read what other students, parents, and professors have to say!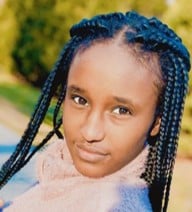 "I thought it was going to be a cool learning experience and it was, but it was way more than I expected. This class is a great way to put your ideas in place and really understand how to run a business."
– Aster H., MD
High School Sophomore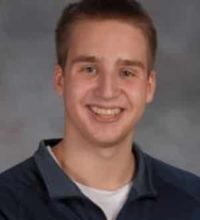 "I came into this program having no idea where to start; just weeks later I have a business that's almost ready to launch."
– Jordan K., MA
High School Junior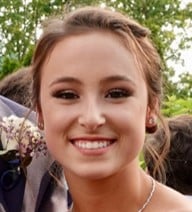 "It was amazing to be able to learn more about making my own product! At first, I was nervous, considering I did not have my idea to start off, but this was an awesome experience!"
– Cara G., NJ
High School Freshman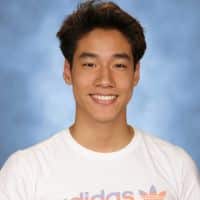 "Beta Bowl is a great experience for anyone wanting to learn what it takes & how to start your own business."
– Andrew Z., MI
High School Senior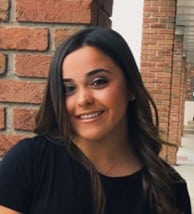 "I was very impressed with how accessible my Beta Bowl mentors were and willing to answer my questions at any moment."
– Sydney S., NJ
High School Junior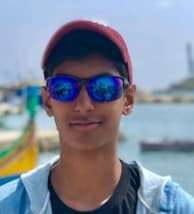 "I enjoyed every step along the way and learned a lot from this course. Through Beta Bowl, my eyes opened to the world of business and I am more interested in learning the field."
– Saketh K., VA
High School Sophomore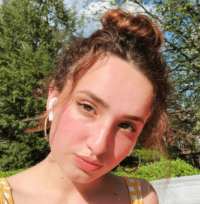 "It was a lot more helpful than I expected. I really enjoyed it, and I would def recommend it."
– Rachel E., DC
High School Freshman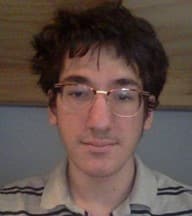 "When I entered, I wasn't expecting much, but they completely blew me away with how focused and targeted it could get. I would take it again."
– Nathan F., NC
High School Sophomore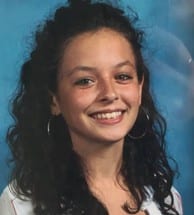 "Beta Bowl is a great business and overall financial learning tool with fantastic resources that also last you a lifetime."
– Sydney SH., TX
High School Junior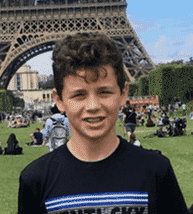 "I learned so much over a short period of time and I recommend it to any teen interested in business who wants to learn more."
– Joe H., OH
High School Freshman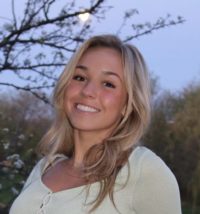 "Any teenagers looking to become an entrepreneur should go through this program before jumping right into starting up their business."
– Morgan D., IL
High School Junior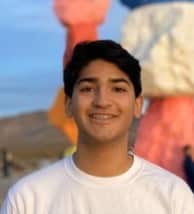 "Beta Bowl gave me the opportunity to learn a lot more about entrepreneurship…because of the program, I am now equipped with the tools to start any successful business."
– Sahil C., CA
High School Sophomore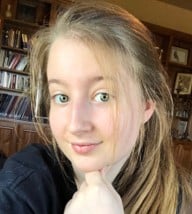 "Beta Bowl is a great class for a high school student to learn how to effectively start a business. It takes you step by step and you learn so much in a short amount of time. I'd totally recommend this class to my peers!"
– Lana R., CA
High School Junior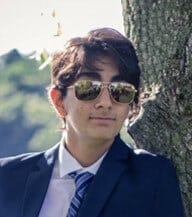 "After the course, I have learned more about marketing, strategy, and finance through face to face conversations than I could have learned in all of the other programs out there combined!"
– Sid K., NY
High School Senior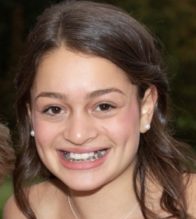 "This program far exceeded my expectations, and I would recommend it to other friends. Beta Bowl is great learning experience to learn about the creation of building a business."
– Sophia L., MA
High School Freshman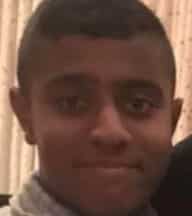 "The program exceeded my expectations by providing a good experience while being filled with knowledge. This was a chance to think and take risk."
– Lucas G., NJ
High School Sophomore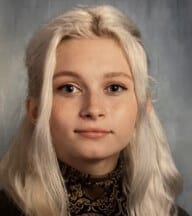 "The experience was a lot more hands on than I was expecting, I especially enjoyed making the launch page and the financial model. This program is perfect if you are starting with just an idea and want to make a solid business plan surrounding it."
– Bailey H., TX
High School Senior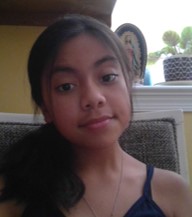 "It went beyond my expectations and made launching a company easy. I enjoyed the program and would probably mention it to people I know interested in launching a company. Beta Bowl is an experience that truly helps you in launching the company of your choice. You even have calls with your mentor for any questions that you have which makes launching a company even easier."
– Kaitly L., PA
7th Grader (Middle School)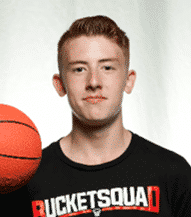 "Beta Bowl has guided me to finally starting my business after months of being stuck on the idea. Thank you for all of the skills and techniques that I have learned to launch my business. Yesterday I completed the first sale and by the end of today I should have another 2 completed!"
– Justin L., NJ
High School Junior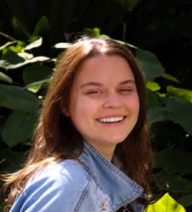 "If you're looking for a fun program to do and have for your teen then totally go to the website Beta Bowl, its an enjoyable program with twist and turns that will surprise you."
– Amber R., TX
High School Senior